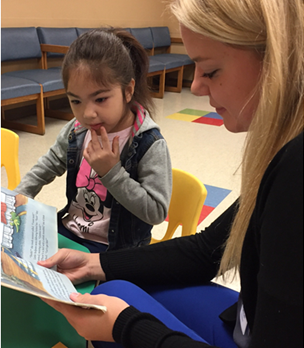 Last semester, four high school students became volunteer readers at our partner clinics.  Once a week, these students from the Northland Center for Advanced Professional Studies (CAPS) medical program, spent their morning reading to children and surveying how they felt about reading.  These students are interested in a career in the medical field and spent their semester participating in a service learning project.
The four volunteers found that a large majority of the children they read to came from primarily Spanish speaking households.  This presented challenges for the group, but they realized that these children, even if they only knew some English,  enjoyed sharing books with them in the waiting room.
Additionally, the CAPS students created a project to research the effects of reading on children's well-being.    They presented the children with a mood scale before and after they read to assess if reading had any impact. Overall they found that children's mood increased after sharing a story in the clinic waiting room.  

When asked about their favorite memory from volunteer reading at the clinics, they said, "being able to see all the kids' smiles and realizing that reading can make a huge difference in their life." Thank you Northland CAPS volunteers!