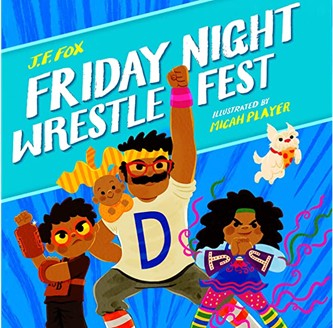 Friday Night Wrestlefest by J.F. Fox, illustrated by Micah Player
Published by Roaring Brook Press
Age Range: 3 – 7 years
I just had the best time reading Friday Night Wrestlefest to my children this week. The story demands to be read in a commanding announcer voice and I just love getting silly with voices at bedtime. The ensuing giggles is one of the sweetest gifts I can give to my family. Wrestlefest follows the joyous chaos a family creates together as they set up a wrestling ring in their living room before bedtime. But what happens when "Mama-rama" and "Big Bald Baby" join the in the fight with a dirty trick no one saw coming? Vibrant illustrations contrast beautifully with delightfully twisty alliteration to make this book a surefire story time hit. For a master class in silly commentary voicing, watch this World Wrestling Cats video featuring cute kittens battling for a mountain-high pile of chow. I also recommend visiting the author's website for some fun family activities like creating your own wrestling personas. Happy reading!

– Stefanie Estes, M.L.S.
Stefanie Estes is the Book Coordinator for ROR-KC. She's responsible for purchasing and organizing the delivery of 65,000 books annually to our partner clinics.