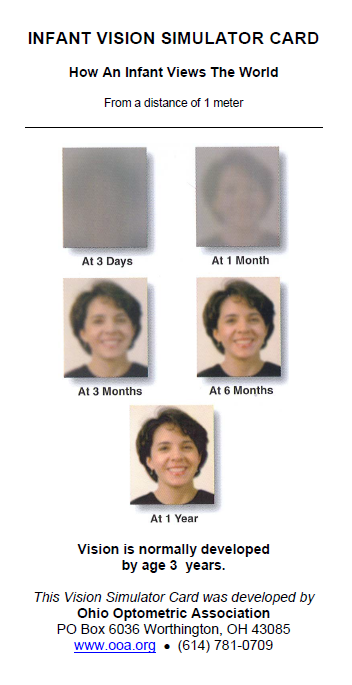 The right book at the right time in a young child's life is key for their development and keeping their interest. Little ones get bored with books that are "too young" for them and can get discouraged by books that are too advanced. At Reach Out and Read Kansas City, we make sure that every child receives a book that is the best fit for them developmentally at each one of their 14 regularly scheduled well-child checkups. We stock over 200 titles in order to offer many different choices for different age groups, and there are a number of factors to consider when we choose books for each group.
New babies, from birth to 4 months, are still working on developing their senses and motor skills, so they enjoy putting things in their mouth to experience them. Starting out, their eyesight is very undeveloped but grows stronger, as demonstrated on the infant vision simulator card presented here. While family members often hold babies closer than the distance designated on the simulator, this gives us some idea about how baby sees the world that they are newly experiencing.

At this age, black and white are easier for them to see clearly, so they find high-contrast board books or cloth books most stimulating (and harder to destroy). For these reasons, we offer book choices such as "Hello Baby" and "Black and White Nighty Night" to infants 2-4 months old. Little ones in this age group are also quickly improving their ability to recognize faces, and at 6 months, can already recognize faces better than they recognize objects. With that in mind, we offer plenty of book choices with lots of faces to look at.
Our volunteer reader, Brenda, recently used the book "Baby Faces: Smile!" to engage a family with a 4-month old baby at our Cockerell & McIntosh site. She moved the book slowly from left to right and watched the baby track the pictures with his eyes, and then he broke into a smile (just like the baby in the book!)

Brenda also gave the family a little information about how reading to very young children helps their brains develop so they are better prepared to learn in school. The parents were very excited to see the baby interact with the book by tracking it and smiling! As they understood that their interactions really were beneficial to their little one, they continued to interact with their baby and book through their stay in the waiting room.
As children grow older, they start to recognize and name objects and are learning concepts like numbers and opposites. Between 1 and 2 years of age, children can choose books about counting or opposites, or they can choose a book that asks them what different objects are, such as "Brown Bear, Brown Bear, What Do You See?" By age 3, kiddos are ready for books with a story, such as Mother Goose tales.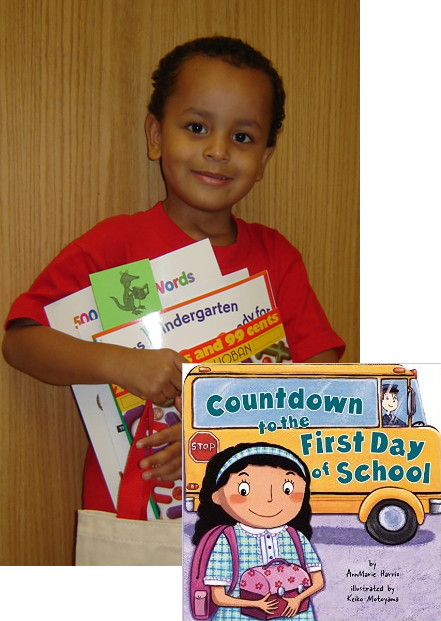 At 4 years, it's time for a special well-child visit! By this age, children are getting ready to start school and Reach Out and Read is ready to help by giving them a kindergarten book bag including their "Countdown to the First Day of School" book,  a kindergarten readiness checklist for parents, and some other preparatory materials.
Thanks to Janice Dobbs, our dedicated book coordinator of nearly 15 years, the Reach Out and Read KC team is experienced at and devoted to providing the most developmentally-appropriate book for every age. Equally as important, we also strive to provide the children we serve with books that are a good fit for them in other ways as well. Many families visiting our partner clinics do not speak English as their first language, so we offer bilingual books in 27 different languages (from Arabic to Vietnamese!) and our medical providers make sure to talk to each family about the importance of sharing books with their young children. By offering the best book choices to every child served by our clinics, we make sure the Reach Out and Read program has the greatest impact possible. Having access at home to the right book at the right time means a child is more likely to want to return to that book again and again, and will begin their lives learning a love of books and reading that will last through their school years and beyond.