It has been shown over and over that Reach Out and Read program has  significant benefits for infants, but a pilot study in Maternal and Child Health Journal indicates that the program may also have notable benefits for adolescent mothers.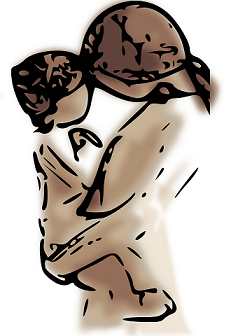 Adolescent mothers are more likely to experience maternal depression. This is likely a cause of the elevated language delay for their children, since depression can impair a mother's ability to be a responsive caregiver. Fortunately, reading aloud together encourages mothers to enjoy time spent with children while doing something fun and interactive, resulting in healthier attachments and reduced depression.
The aforementioned study encouraged reading by implementing the Reach Out and Read model, and used questionnaires and the Beck Depression Inventory-Revised to measure results. The participating clinicians attended a 1-hour session informing them of counseling strategies that are attuned to the unique needs of adolescent mothers. The model was implemented using three components common to ROR clinics: 1. The clinician giving an age-appropriate book to the child during a check-up; 2. The clinician administering literacy advice; and 3. A language-rich clinic environment, including volunteer readers. The program is feasible and low cost because the books and resources were donated, and the clinic readers were volunteers.
Though it cost very little, the program was effective in reducing maternal depression and increasing time spend reading together. Researchers also observed high recruitment and retention rates, which was noteworthy considering the high frequency of missed appointments for adolescent mothers at the clinic.
The study did have a small sample size and only included one clinic, so the results could not reach a statistically significant conclusion. However, the observations made here show promise for further study and will hopefully lead to research on a larger scale. This information also provides a reminder that the Reach Out and Read program is simple, but its effects are varied, broad, and profound. Our program begins in the clinic, but it is hard to say when (or whether) it ends, for the benefits of hearing a story in the arms of a loved one are benefits that last a lifetime.