Everyone knows the holidays are a time for thanks giving and for giving back. As I reflect on the past year, I am so very grateful to have been entrusted with this wonderful opportunity to spend every day giving back alongside the mighty staff of five, 46 clinic partners, and over 200 active volunteers of Reach Out and Read Kansas City. Also, I am thankful to you, for your past support and ongoing commitment to helping ensure every child in Kansas City will enter school ready to learn.
Since coming on board as Executive Director in September, I have been challenged, inspired, and ever-so-honored to play a part in the important work we do and the contributions we make to improve the lives of children. Not only do I hear it every day in testimonials from our volunteers and clinic staff, in a recent Parent Survey 98% of our families reported getting a book at their child's well-child visit, 95% of families reported getting literacy advice, and, as a result, 82% of families reported reading to their children three or more times per week!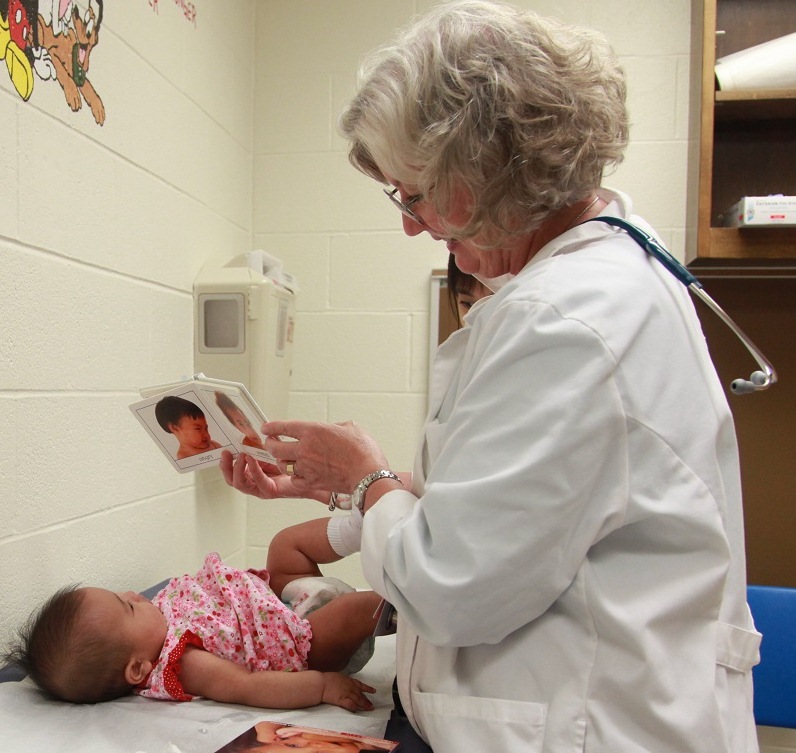 As you take a moment to give thanks this holiday season, I invite you to share your good fortune by also giving the gift of literacy – truly a gift that keeps on giving. A donation of just $60 to Reach Out and Read Kansas City provides a child with their own starter library, a new book received at each well-child visit from birth to 5 years old.
Your gift will spark the joy of learning in thousands of children throughout Greater Kansas City. Thanks to you and other advocates, in the next twelve months medical providers will meet with parents over 72,000 times to prescribe the importance of sharing books with their children. 30,000 children will take home a brand new age, language, and culturally appropriate book from their well-child pediatric appointment. And volunteers trained and provided by Reach Out and Read Kansas City will model book sharing skills as they read to children in clinic waiting rooms.
Research confirms that parents who receive literacy counseling from their health care providers, according to the Reach Out and Read model, are more likely to read to their young children, read more often, and have more children's books in their homes. Over 70% of the children who visit Reach Out and Read Kansas City clinics come from low income families, and many of these families are struggling just to cover the basic necessities of food, rent, utilities, and transportation. They wish they could provide books for their children but their hard earned paycheck just doesn't stretch that far. With your gift, Reach Out and Read Kansas City can help these children start the first day of kindergarten having experienced the joy of owning their own book, ready to read and learn.
Best wishes and Happy Holidays,
Mark Mattison
Executive Director