The following message is a guest blog from Sallie Page-Goertz MN, APRN.  Sallie is the Medical Director of Reach Out and Read KC and a Nurse Practitioner at KUMC Pediatrics.

"For children, a well-constructed brain depends on genetic makeup, the environment, and most important, the children's relationships with adults who are attentive to them…and care deeply about them."  (Petersen S.  Young Children. P.14. September 2012.)
I can't say it better!  Children need people to hold, them, love them, talk, read and play with them for the very best developmental outcome.  Reading aloud is one strategy that serves to bring a caring adult into close physical contact with a child, doing a pleasurable activity.  For both children and adults, these special times help reduce stress and build relationships over time.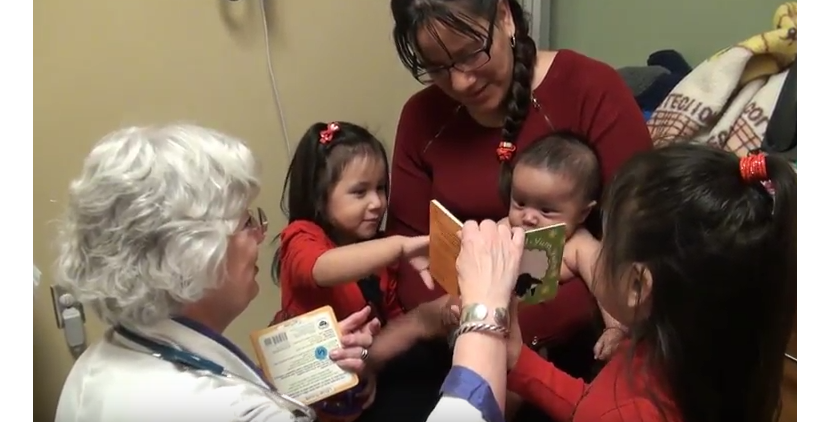 Reach Out and Read came into being because pediatricians who specialized in children's development were concerned about their observations that parents were not in conversation with their infants and children; parents were not in close physical contact with their infants and children.  The strategy of having a health care provider give a prescription to caregivers to share books with children, along with the gift of a new, developmentally and culturally appropriate book, was the pediatricians' response to those concerns.
Reading aloud, (or book sharing – making up one's own stories based on the pictures, talking about the pictures on the page – the colors, the objects) is a time when caregivers can experience serve-and-return communication.  The caregiver reads/comments, and then listens/watches for the child's response, and then reads/shares some more.  It is a great way for children and caregivers to connect.
Babies are attuned to the voices of people in their environment even before they are born.  After birth, their brain is changing rapidly, in part based on their environment.  The first 1000 days are the most sensitive times for the development of vision, hearing, language, and emotional attachment.  Connections between neurons can either be strengthened or pruned during this sensitive time.  One hopes that connections that are helpful to children's well-being will be the ones strengthened – and this can be a challenge, especially for families who are living in stressful circumstances.
Sharing a book while snuggling a baby or young child strengthens important connections in the brain. Snuggling/being in conversation ameliorates the negative physiologic effects of toxic stress (stress that is unremitting, or intense, or frequent) and fosters the development of close emotional bonds. Reading aloud or sharing books of course helps build vocabulary and enhances a child's readiness to learn in school, but most importantly, sharing that book makes a connection between things baby loves most – your voice, your closeness, and  books –a love for caregivers plus a love of books translates to a love of learning and a healthy life.