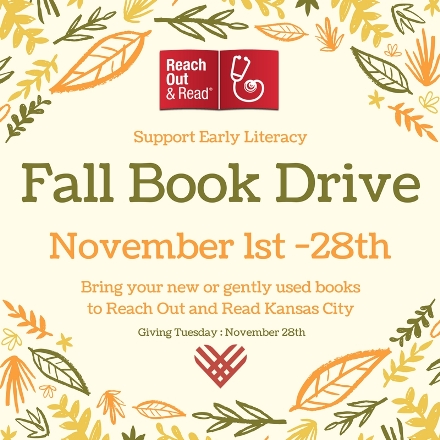 In partnership with Giving Tuesday, the national day of giving, Reach Out and Read Kansas City is hosting its annual Fall Book Drive. Celebrate the season by donating new and gently used books to Reach Out and Read Kansas City.
What: Fall Book Drive
When: November 1st- 28th
Book drop off is Monday – Friday from 8:30am – 4:30pm.
Where: Reach Out and Read Kansas City
Support Services building, 2100 W. 36th Ave, Kansas City, KS 66160. 
Collecting books can be a fun way to bring friends, family, and coworkers together. From birthdays to office parties, a Reach Out and Read Kansas City book drive is a conversation starter and opportunity to make a difference in your KC community.
Susan Mertz, a content writer @ Merrigan & Co, recently hosted a cocktail party book drive with her daughter Allison. It was a big success. Not only did she have a wonderful group of people visiting her home but she also collected new and gently used books at the same time.
When she dropped off the monetary and book donation she filled us in on the details. If you are interested in hosting your own book drive, visit our How to Host a Book Drive post for more Information.
Susan, you mentioned that you heard about Reach Out and Read Kansas City from Monica Tiffany. What did she say that made you interested in the program?
"Monica mentioned her involvement on the board and it brought back memories of volunteering at my children's school library. And, memories of taking my children to the public library for storytime. Time reading books with little ones is priceless."
How did your daughter get involved?
"I've watched Allison's friends grow up and always enjoy seeing them. We have a great mix of friends and it was a fun way to get all of us together. Plus, I just love spending time with my daughter!"
What inspired you both to host a book drive?
"Initially, I visited the website planning to donate books. Then, I saw the button promoting Host a Book Drive."
Why a cocktail party?
"An after work gathering was best for our schedule and we added fun beverages and snacks."
How did this all come about?
"First, I floated the idea past a few friends and they were all excited. We picked a date that worked well for several people. Then, my daughter and I created a Facebook event and sent out the invites. We invited 30 people and had 20 join us. We were thrilled with the response!"
What did people say about Reach Out and Read Kansas City during the event?
"I had info signs posted on the donation box telling a little about the group. Many had questions and were genuinely excited to learn about the organization. Again and again, friends said they really enjoyed getting together, having fun, and helping out. It was also fun hearing about the books they donated – favorites of their children and favorite ones they grew up reading."
How did you both feel when the event was finished?
"Wonderful. We collected 70 books plus a cash donation. It was fun and easy. And, best of all, we introduced an incredible organization to our friends. It looks like we will be doing this again next year! One friend is already saving books for the next book drive."
Thank you so much, Susan and Allison!