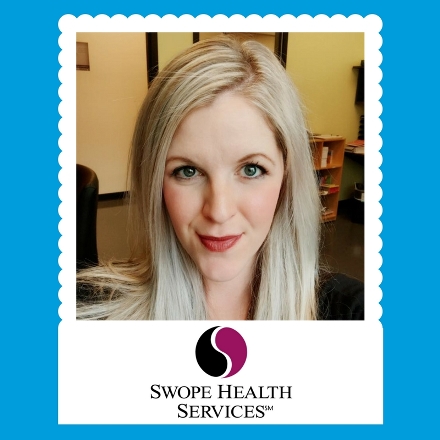 Chelsea Phelps is a Pediatric Nurse Practitioner and ROR-KC Medical Director for Swope Health Central. The clinic is part of a conglomerate of Swope Health Services satellite sites that offer a variety of services including, primary care, dentistry, optometry, radiology, pharmacy, WIC and an on-site laboratory. Chelsea and her colleagues at Swope Health Central utilized a new book during 2,000 well child visits last year and had the opportunity to educate hundreds of families about the importance of reading from the start.
Chelsea shared a bit about herself and how she makes a difference to improve literacy in Kansas City every day. She has been a passionate supporter of Reach Out and Read Kansas City from the moment she started at Swope in 2015, and she understands the impact early reading can have on a child's life.
What is your favorite part of ROR-KC?
My favorite part about Reach Out and Read is every time I give a book to a family and the sheer excitement I see on their faces. If I forget to bring in the book at the beginning of the appointment many of my families will ask me if they are getting a book that day.
What are some of your favorite books to use with your patients and why?
I love books with touch and feel details, the indestructible books, or books with flaps. My infants love to feel the different textures of the books, chewing on them or looking for hidden characters under the flaps. For my older kids, they love receiving books with recognizable characters on them or things they are interested in (planes, trains, dolls, etc)
What's your favorite piece of family reading advice (or encouragement) to share? 
Reading to your children at LEAST once per day is so beneficial to their development. Many parents feel that for a child to learn, you need to sit them down and teach them as though they are in a school setting. Many parents don't know that just by reading a story and talking about the characters in the book it is just as beneficial of a learning experience.
What's your fondest personal reading memory as a child or reading to your own children?
Since both my boys were born I have a nightly routine of bath, books then bed. Some nights are very hectic and reading time sometimes will get missed. My oldest son (almost 4 years old) will come in my room with a book so that we can have that moment. I can never say no! We end up reading 3 or 4 sometimes 5 books at a time.
Why is reading important to you?
My life is always go, go, go. Reading puts the brakes on a busy day. At least for a little while.  It is a time that you and whomever can have a moment to connect and remove technology that often overwhelms families these days. Now that I am older, reading is also a way to get my mind off of the day-to-day stresses.
Is there anything else you would like to share?
Reading is so vital to children as well as adults. Pick a time of day even if for only 5 minutes to sit and read something together. It could be a new book or an old one, a newspaper or a magazine. The content is important, but not as much as the time spent together. The time spent together is so important- especially today when life gets so busy.