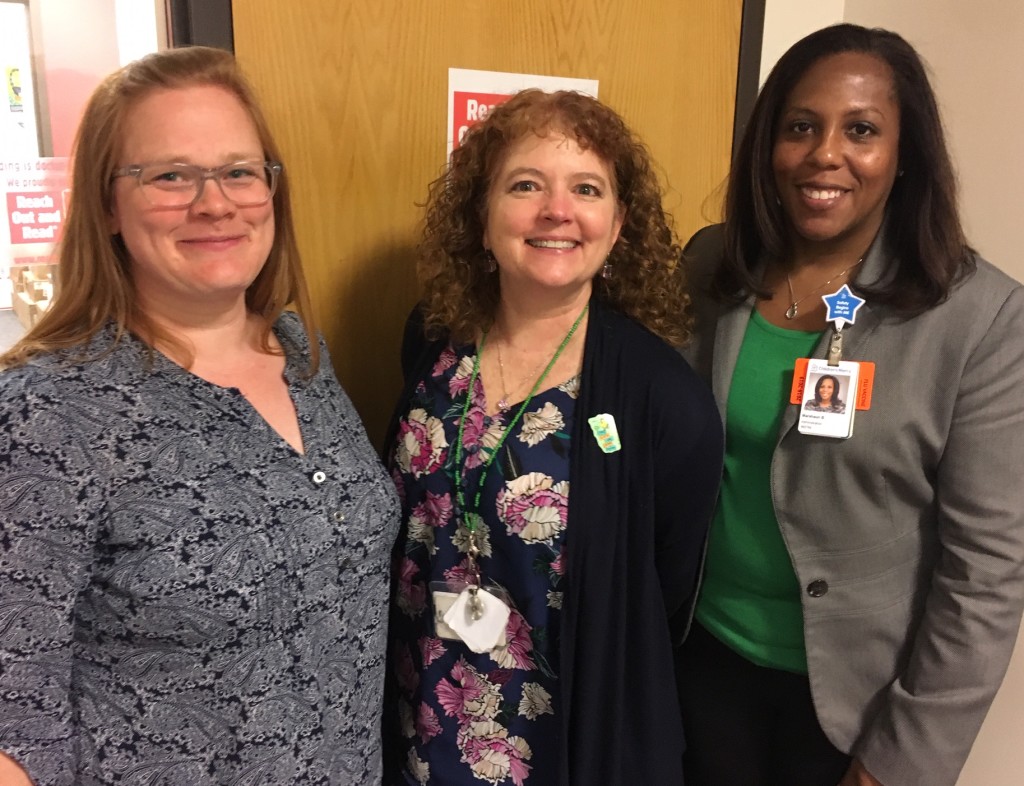 (left to right) Out-going Board Members Mary Olive Joyce, Susanne Mahoney and Marshaun Butler. Not Pictured: Gharib Gharibi
It is with great appreciation and gratitude that we bid farewell to four fantastic Advisory Board members, including one who's served for 21 years. Three years ago, ROR-KC adopted new guidelines for board members that included term limits in an effort to maximize energy and engagement. Terms are three years, with the option to extend to a second term. As we approach a new fiscal year, Mary Olive Joyce, Susanne Mahoney, Marshaun Butler and Gharib Gharibi are rolling off the board.
Susanne is the longest serving board member in ROR-KC history, having started when the board (then called the Community Council) was founded 21 years ago. "I have loved being a part of ROR-KC and have learned that the program truly makes a difference!" she says. Susanne is a Speech Language Pathologist in the Kansas City, KS school district. She says her most rewarding experience was when ROR-KC co-founder Dr. Jean Harty asked her to present at the National Conference in Boston nearly two decades ago. "She made me go over to her house to practice the speech with each slide and made sure I knew what to say. It was an incredible honor to talk about our unique coalition; the only ROR group that spans the state line. I met many other ROR program leaders and was so inspired by all."
Marshaun Butler, a Vice President at Children's Mercy Hospital, has been on the Advisory Board for six years. She says she's enjoyed "connecting and collaborating with colleagues who believe in the power and importance of early literacy. The degree of importance early literacy can make for a child is astonishing. The impact carries over a lifetime!" Marshaun says volunteering at clinics has been most rewarding, and she loves watching the magic happen when children are read to: "The sparkle in their eyes, the excitement in their smile and most importantly, the desire for more after the story ends."
Gharib Gharibi, a doctoral candidate at the UMKC School of Computing and Engineering, has been on the board for three years. He was very involved in establishing the Race to Read 5K, now in its third year.
Mary Olive Joyce is a Librarian with the Kansas City Public Library who's been on the board for three years. She says what she enjoyed most about her time with ROR-KC falls in line with her career. "I love helping parents and families grow in their love of books and reading!"
This year, we've welcomed seven new Advisory Board members. Learn more about them here. In July, we will welcome two more new members. Mary Olive has some advice for them all: "Roll up your sleeves and dig in. The best part of being on the board is doing the work and making ROR-KC stronger so that we can foster future generations of readers." We couldn't have said it any better!
Thank you, Mary Olive, Gharib, Marshaun and Susanne for sharing your time and talents with ROR-KC and the children of our communities!
Follow us on social media for photos, news, literacy-related research and other fun items!