It's been a fantastic year for Reach Out and Read Kansas City, and it's all thanks to you: our volunteers, donors, clinics and families. Thank you!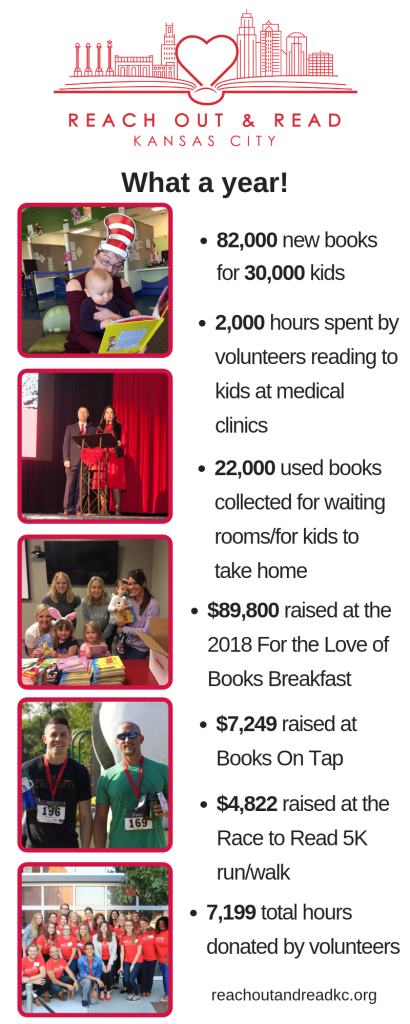 We are thrilled to report that ROR-KC was able to provide 82,000 new, developmentally-appropriate books to 29,326 children at well child visits during fiscal year 2017-2018. Children from birth through age five at 50 partner medical clinics in the Kansas City area receive our books, and families get a prescription to read from their provider. Thanks to our program, there were 76,247 opportunities for medical providers to educate parents about the importance of sharing books with their children last year. This, along with books to take home, is what can make the difference in children entering school prepared.  Data from National Reach Out and Read show that children who go through the ROR program enter school three-to-six months developmentally ahead of those who do not.
At ROR-KC, it is truly a team effort. Medical providers and clinic site coordinators along with ROR-KC's small staff work with a huge group of volunteers to promote early childhood literacy in our community. During fiscal year 2017-2018, volunteers spent 7,199 hours working as readers in clinics, helping in our office, organizing and planning fundraisers and events and more. Volunteer readers (those who read to pediatric patients in clinic waiting rooms) accounted for 2,010 of those hours. We had 84 volunteer readers last year – and that number is always growing.  Click here to learn more about volunteering with ROR-KC.
Waiting rooms are important places to encourage literacy as well. We collected 39,968 gently used and new books last year, and 22,318 of those went to our clinic waiting rooms. Children can read them in the office and choose one to take home at each visit. Our annual Hooked on Books drive, which included 13 schools in 2018, collected 17,650 of those books. Donations and drives held by individuals and businesses made up the rest.
Our events were very successful this year, thanks to dedicated committees of volunteers, who worked tirelessly to secure donations and plan fantastic, fun gatherings. Our "For the Love of Books" Breakfast (our 21st annual breakfast) raised $89,800, Our 7th annual networking happy hour, "Books On Tap," raised $7,249 and our 2nd annual "Race to Read 5K" raised $4,822.
Here's to a literacy-rich, successful 2019 for all of us!
Click here to give the gift of literacy now.