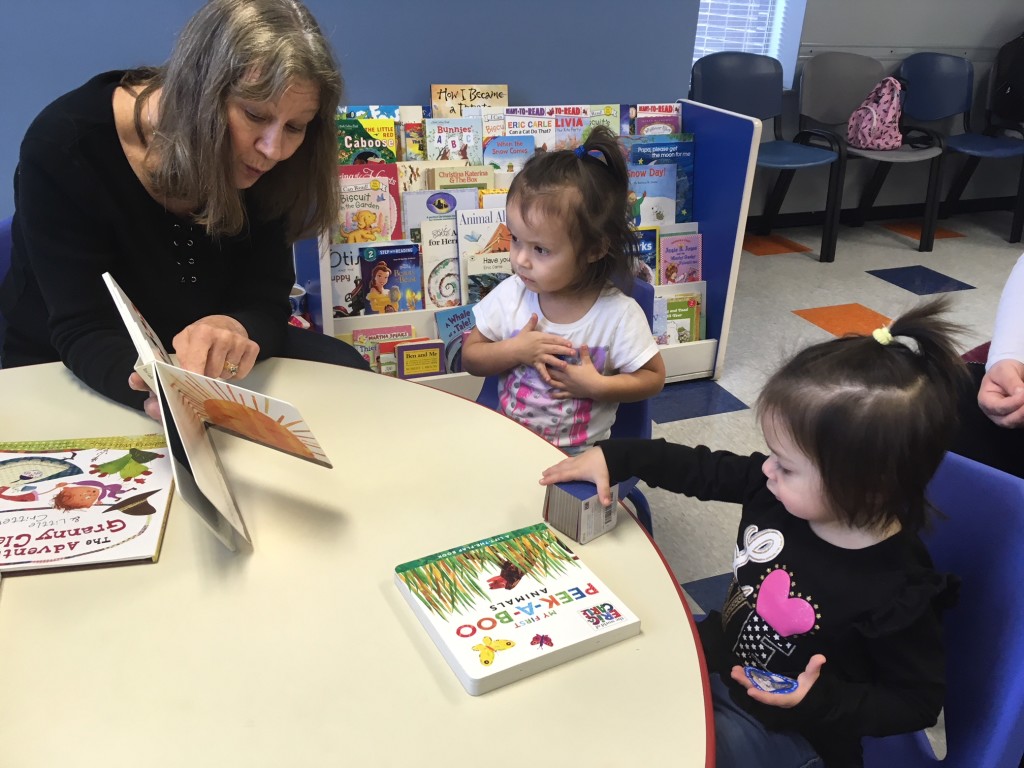 Every Tuesday afternoon, the patients and staff at Baby and Child Associates can count on two things: volunteer Susan Hannah and Pete the Cat. "I just love Pete the Cat books!," says the retired elementary school teacher (pictured, left), who's been faithfully reading to patients and siblings at Baby and Child for ten years.
Each week, she settles in at the child-size table and chairs in one corner of the colorful waiting room and engages children with a book. And more often than not, it's Pete the Cat. "I even went out and bought a couple of Pete the Cat books, because I can really get the kids involved with those. I'll ask, what do you think Pete's going to do next? Or how do you think he stepped in those strawberries?" Often, they sing along about Pete's white shoes.
Volunteering at the same clinic for ten years has its advantages. Susan says sometimes the children recognize her. "I've had a couple of them come in the door and go, 'Oh, she's here, look!' Then they'll come over to the table and sit down to listen."
What makes her keep coming back, year after year? "I really think reading to those kids makes a difference. They look forward to that attention. You know, if you have the excitement in your voice or if you growl when it's appropriate in the book, or you act surprised with a funny look on your face, that's important to the kids, because then they see how exciting reading can be."
Susan says parents sometimes join their children at the reading table, and she knows that they're paying attention, too. 
"That's what I try to get across to the parents…even if you only read one book at night when you put them to bed, that's going to help them with vocabulary and overall learning and to know that you're interested and you want them to learn to read. They can discover so much. It's awesome."
Awesome, indeed. That sounds like something Pete the Cat would say.
Thank you, Susan, for sharing your time and talents! Susan is one of about three dozen volunteer readers who read regularly at a partner clinic. If you're interested in becoming a volunteer reader, contact Marianne Sharp: msharp5@kumc.edu.