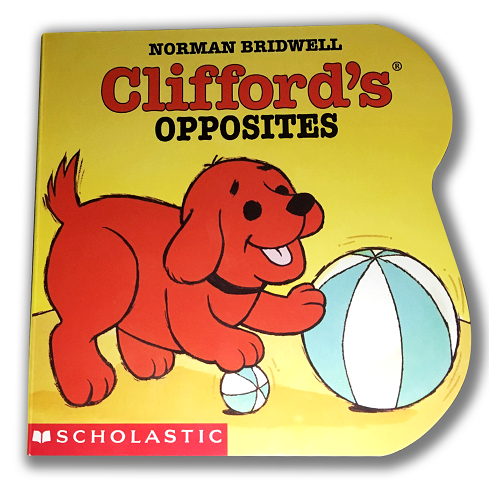 New series alert! 
Each month, we'll be posting a book recommendation from our Book Coordinator, Janice Dobbs. She's spent 17 years curating the collection of developmentally-appropriate books that Reach Out and Read Kansas City provides to 50 medical clinics to hand out at well child visits. She knows books!
October Bookshelf Recommendation:
Clifford's Opposites (one of eight books in a series)
By Norman Bridwell
Published by Scholastic
Age range: 6 months – 3 years
"Clifford is a favorite character for the young and young at heart! This little board book is the perfect size for toddlers to carry around, and the scalloped edges of the book make turning pages an easy task, even for babies. This series of books helps to reinforce basic concepts that little ones are learning—animal sounds, bedtime and bath-time routines and opposites. The simple text and colorful illustrations capture the attention of children and make it a fun and easy book to share with little ones—and often preschoolers enjoy "reading" these books to themselves! This series also comes in a bilingual format."
– Janice Dobbs
Janice Dobbs has been the Book Coordinator for Reach Out and Read Kansas City for over 17 years. She's responsible for purchasing, organizing, and managing the delivery of over 82,000 books to our 50 partner clinics.