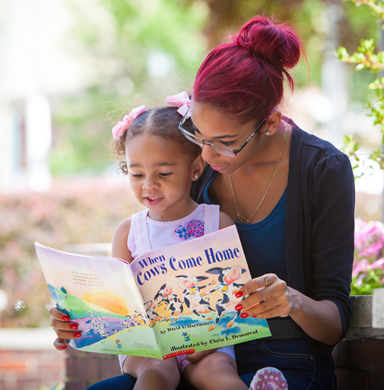 Parents and caregivers, here's another reason to keep chatting with your children while reading to them. A study published recently in the Journal Pediatrics finds that talking with your child often, or "conversational turns," may have a positive impact on the child's language development and IQ as much as ten years later!
Reach Out and Read's National Medical Director, Perri Klass, co-authored a commentary that accompanied the study (she was not involved in the study itself), and calls the findings "especially remarkable, given the heterogeneity of children's experiences as they grow up." In the commentary, Klass and her co-author, Dr. Alan Mendelsohn, note that the "study findings support 'primary prevention' of disparities in development and school readiness, beginning early in life before their onset." Klass and Mendelsohn cite Reach Out and Read as the "most established scaled program" in this area.
This study is really heartening, and it supports our mission of increasing kindergarten readiness in at-risk communities by giving families the tools and training they need to succeed.
Click here to read the full article from the Journal Pediatrics.
Click here to read the commentary co-authored by Reach Out and Read's National Medical Director Perri Klass.
Click here to read an article from ABC News about the study.