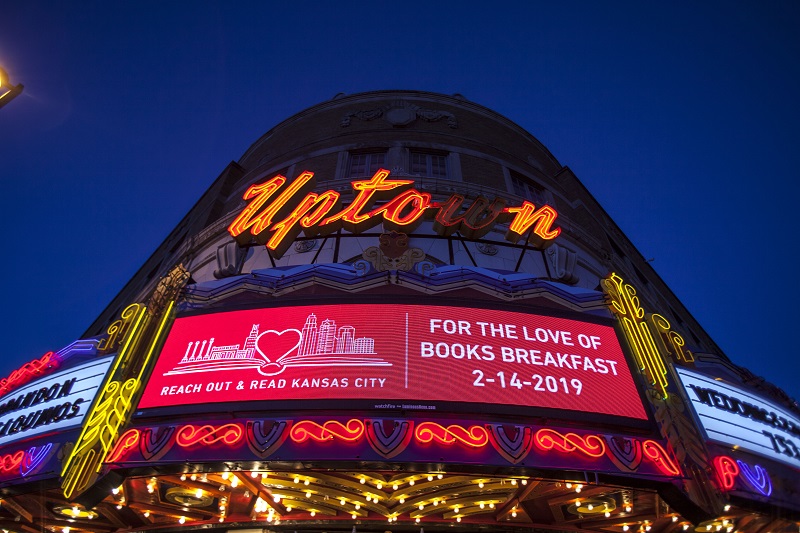 On Valentine's Day, Kansas City really showed its love of literacy at Reach Out and Read KC's annual For the Love of Books Breakfast! Led by honorary hosts Cathy and Joe McCaddon (Cathy is also Chair of the ROR-KC Advisory Board), the event at Uptown Theater raised over $88,000 for Reach Out and Read Kansas City, the region's only medically-based early childhood literacy program.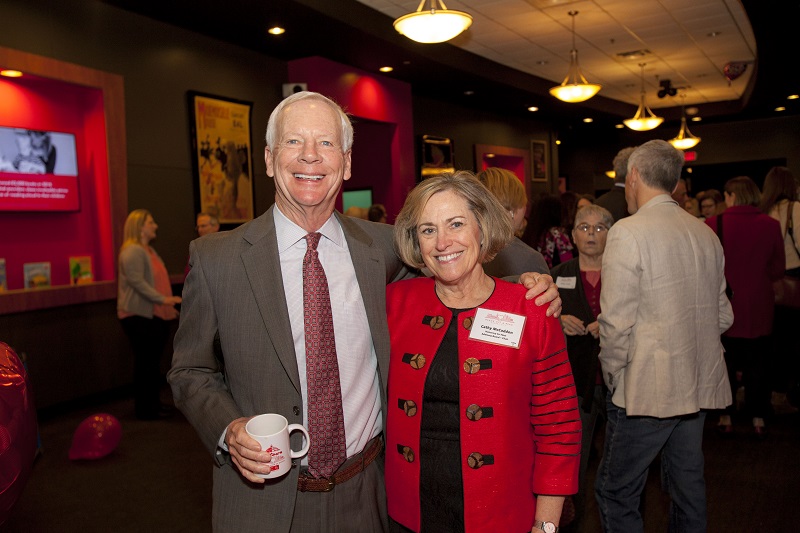 Honorary Hosts Joe and Cathy McCaddon 
It's tough to choose the highlight of the event.  Was it Roasterie Founder Danny O'Neill's heartfelt keynote address? Mr. Stinky Feet (aka Jim Cosgrove) and Cathy McCaddon's rendition of Sandra Boynton's "Snuggle Puppy?" Emcee Dhomonique Ricks of Fox 4 or the video about ROR-KC crafted by Richard Sharp of 41 Action News? And who can forget the take-home goodies for the more than 200 attendees: Roasterie coffee, chocolates from Andres in Overland Park and book lights courtesy of CommunityAmerica.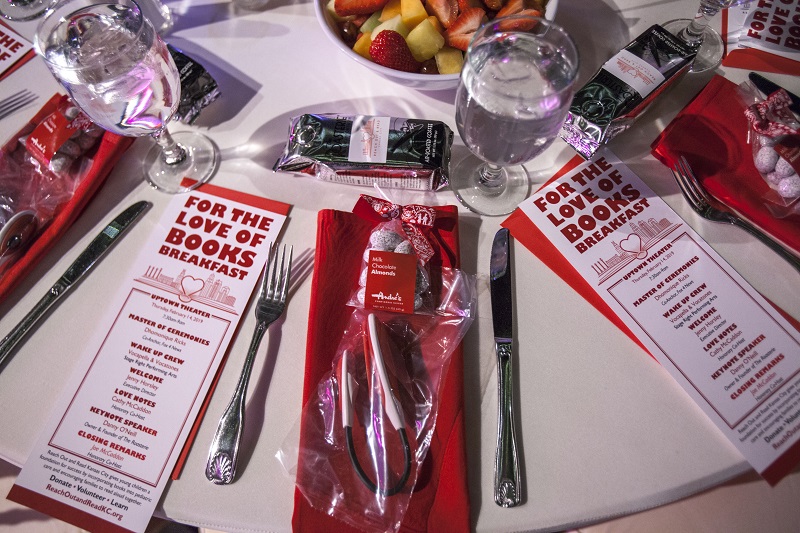 One thing does stand out: Our guests' generosity! Day-of donations totaled more than $20,000 – nearly double our previous record. Thank you! As honorary co-host Cathy McCaddon said, you're making a real difference in a child's life during those critical first 1000 days and beyond.
The total raised at the event was $88,220 and that wouldn't be possible without our sponsors. That includes Honorary Hosts Joe and Cathy McCaddon, as well as the Eckert Family Foundation, which matched the first $2,500 in day-of donations.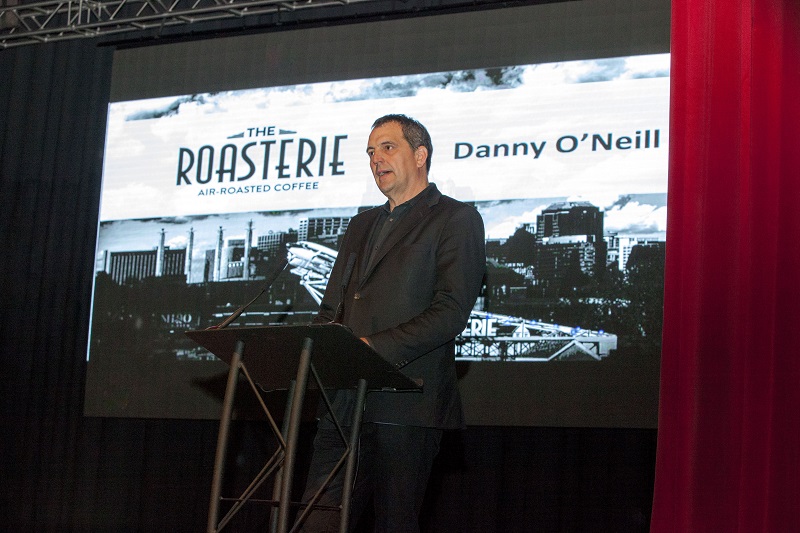 Keynote Speaker Danny O'Neill, of the Roasterie
Emcee Dhomonique Ricks energized the early-morning crowd, and featured presenter Danny O'Neill spoke from the heart about the importance of literacy in his life, including memories of his father reading to Danny and his nine siblings.
And who could forget Cathy McCaddon and Mr. Stinky Feet singing Sandra Boynton's "Snuggle Puppy?"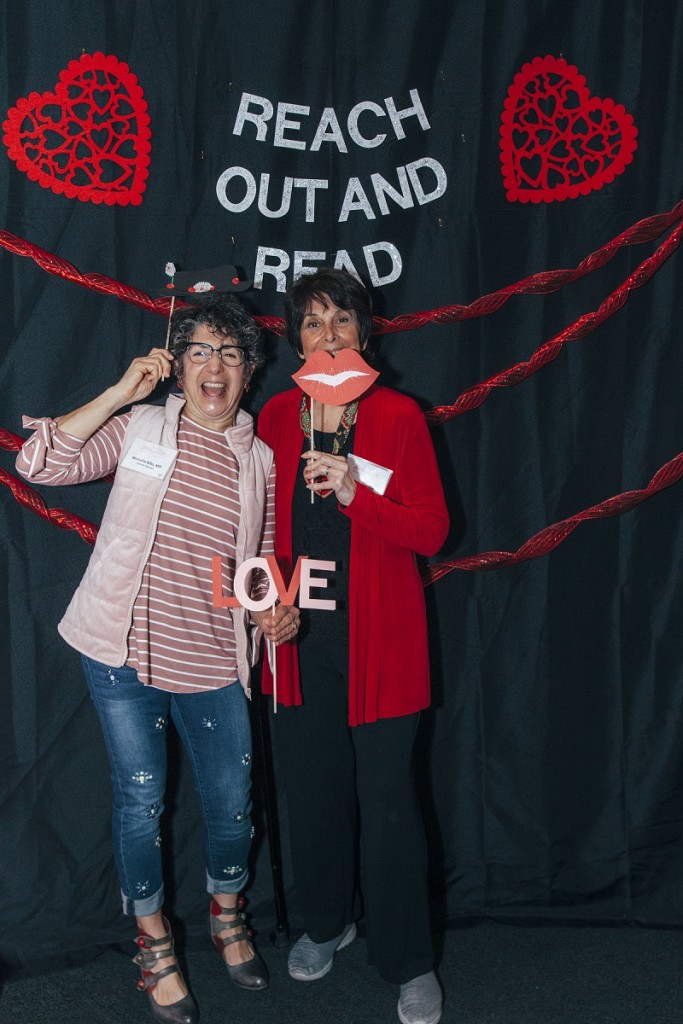 Check out the full photo album on Facebook, courtesy of the talented Patty Dover of Life Unstructured Photography.
We also debuted a new video about the well child visit, the heart of the ROR-KC program. Check it out here on YouTube. A big thanks to Richard Sharp of 41 Action News for his help with the video!
In addition, we were lucky enough to have two talented Stage Right Performing Arts choirs kick off the morning for us.
Thanks to all – including the more than 200 people attendees – who made this an extra special Valentine's Day!