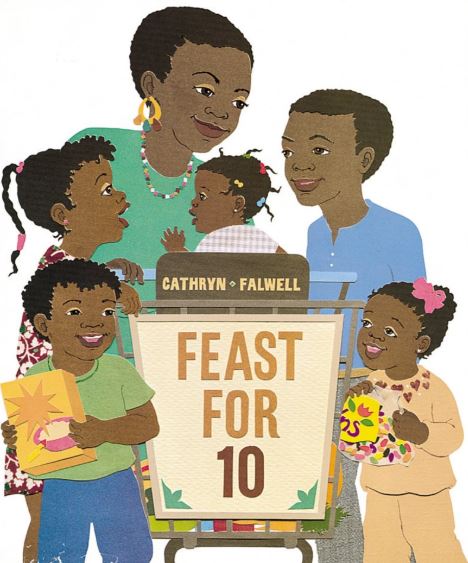 Most months, we post a book recommendation from our Book Coordinator, Janice Dobbs.  She's spent 17 years curating the collection of developmentally-appropriate books that Reach Out and Read Kansas City provides to our partner medical clinics to hand out at well child visits. She knows books!
Here's her February pick!
Feast for 10
Written and illustrated by Cathryn Falwell
Published by Scholastic
Age Range: 18 months – 5 yrs
Feast for 10 – This fun counting book has amazing illustrations that children and adults alike will enjoy. It is a book that recounts a family's excursion to the grocery store, cooking a meal and then sharing that special meal together. The rhyming text makes it an easy read, and children will enjoy the anticipation that mounts from page to page, ending in a wonderful family celebration. It is a great segue into conversations about family traditions. This book reinforces family values and comes in paperback and board back editions.
– Janice Dobbs
Janice Dobbs has been the Book Coordinator for Reach Out and Read Kansas City for over 17 years. She's responsible for purchasing, organizing, and managing the delivery of more than 80,000 books annually to our partner clinics.