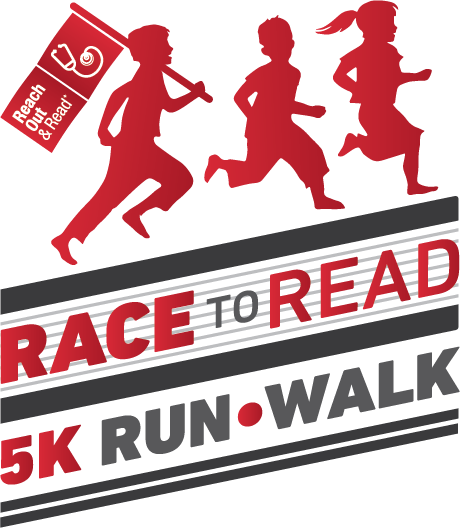 Race to Read is coming up Saturday April 6th, 2019!
Wait, you might be saying, isn't Race to Read an August event? Well, it WAS. Now, it's a can't-miss spring 5K run/walk and family-friendly event!
Register today at KCRacetoRead.com.
There's another important change, too. We've moved to Corporate Woods in Overland Park, a private flat course known for personal records.  With so many new and exciting things happening with the race this year, we asked Race to Read Committee Chair (and ROR-KC Advisory Board Member) Truss Tyson to give us the straight scoop.
Q: What's different about Race to read this year?
Truss:  We are expecting more participants than we've ever had in the past, and we are very excited to host the race in the new Corporate Woods location. The change to the early spring date will also hopefully allow us to take advantage of nice weather.
Q: Why are we changing locations?
Truss: We are thrilled about the move to Corporate Woods, as it allows for growth in race participants and it will be a private course with no obstacles.
Q: What can you tell us about the race course?
Truss: It's a very popular venue because it's flat and wide, making it the perfect opportunity for racers to set PR's (personal records)!!
Q: What kind of event will this be? Is is still family-friends, or is it mostly for serious runners?
Truss:  Race to Read is for EVERYONE – all levels of experience and seriousness, and all ages. It will be a stroller-friendly race (kiddos in strollers are free), with a staggered start so that everyone can participate more comfortably. The course is only one lap, and it is a chip-time event.
Q: Why should I come to Race to Read?
Truss: Race to Read is an easy way to get involved with a wonderful organization, get in a quick workout (maybe setting a new PR!) and meet some amazing people!
Thanks, Truss!
Well, we're convinced!
Race to Read will be Saturday, April 6th at 7:30 a.m.
We'll have live music and a free bubble run for kids, too!
Registration is $35 for 16 and older, and $15 for 15 and under. The fee includes a fun race T-shirt.
When:
 Saturday, April 6
at 7:30 a.m.
Where:
 Corporate Woods (9401 Indian Creek Parkway, Overland Park, KS)
Cost: 
16 and over
: 
$35
(fee includes chip timing and T-shirt)*
         15 and under: $15 (fee includes chip timing and T-shirt)*
*Register by March 19
th
 to be guaranteed a shirt