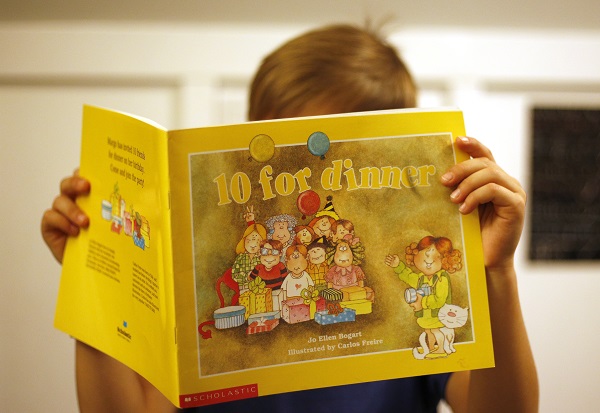 Each month, we post a book recommendation from our Book Coordinator, Janice Dobbs. She's spent 17 years curating the collection of developmentally-appropriate books that Reach Out and Read Kansas City provides to 50 medical clinics to hand out at well child visits. She knows books!
November Bookshelf Recommendation
10 for dinner
Written by Jo Ellen Bogart
Illustrated by Carlos Friere
Published by Scholastic
Age Range: 3-5-years old
"This fun, creative book comes in hardback and paperback versions, and is great for practicing early math skills. More than that though, it is an engaging story that children will enjoy time and time again, as they hear about Margo's birthday party. Along the way they will become endeared to Margo's friend who is "creative" (i.e. different), and the surprise ending will remind everyone that 'you can't judge a book by its cover.' There are lots of good learning opportunities in this story that will hold the attention of preschoolers and young elementary-aged children alike."
– Janice Dobbs
Janice Dobbs has been the Book Coordinator for Reach Out and Read Kansas City for over 17 years. She's responsible for purchasing, organizing, and managing the delivery of over 82,000 books to our 50 partner clinics.