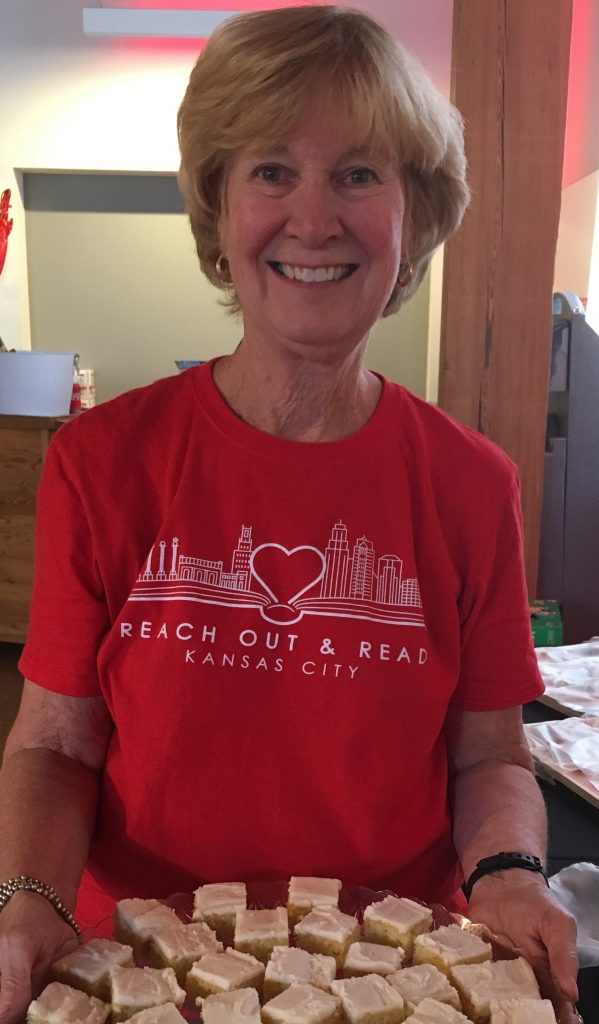 If you've been involved with Reach Out and Read for awhile, you've no doubt tasted – or at least heard of – Janice's famous Almond Cake. In her 18 years with ROR-KC, Janice Dobbs, our Book Coordinator, has made the cake dozens of times for events, and shared the recipe with numerous people. Lucky for us, she's sharing it again now for everyone to enjoy!
At our recent volunteer appreciation event, other staff members contributed some of their favorite dishes as well, and we thought we'd include them all, just in case you have a hankering for a good buffalo dip (from Executive Director Jenny Horsley) or shortbread cookies (from Communications Coordinator Marianne Sharp) or meatballs with raspberry sauce (from Medical Director Sallie Page-Goertz).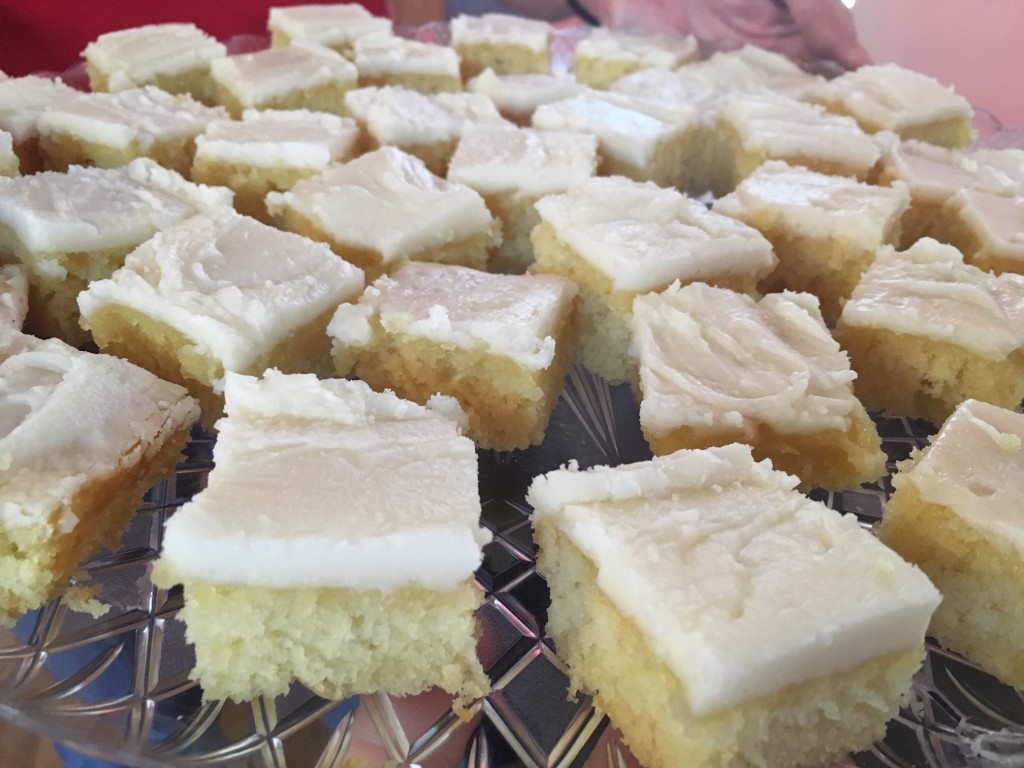 Janice's Almond Sheet Cake
Ingredients
FOR SHEET CAKE
1 cup Butter
1 cup Water
2 cups Flour
2 cups Sugar
½ cup Sour Cream
2 whole Eggs
1-½ to 2 tsp. Real Almond Extract
1 teaspoon Baking Soda
1 teaspoon Salt
_____
FOR FROSTING:
½ cup Butter (frosting)
¼ cup Milk (frosting)
3-½ to 4 cups Powdered Sugar (frosting)
1-2 tsp. Real Almond Extract (frosting)
Preparation
FOR SHEET CAKE
Bring butter and water to a boil. Mix flour and sugar in a large bowl. Pour the boiling liquid over the flour and sugar and mix well. (I use a hand mixer)
Add the remaining ingredients and beat well.
Pour into a well-greased jelly roll pan. Bake at 375 for about 15-17 minutes. (top should be just beginning to get light brown) Once cake is out of the oven you should begin making frosting.
FOR FROSTING
Bring butter and milk to a boil.  Add almond extract and then add powdered sugar in several increments—beating in between additions. Frosting should be thin enough to pour—need to do this quickly before frosting hardens up on cake.
From Executive Director Jenny Horsley:
Buffalo Chicken Dip Recipe
1 Rotisserie Chicken (or 2-3 chicken breasts), cooked & shredded
2 packages cream cheese, softened
1 cup Frank's Red Hot – Original – they have a buffalo sauce, but I like the original better
1 Tbs Butter
1 cup of Ranch or Bleu Cheese Dressing (optional) – I usually do not add dressing, but it does make a difference, especially if you like bleu cheese.
2 cups Mozzarella Cheese, divided
Preheat oven to 375 degrees.
In skillet, melt butter and mix in chicken and Red Hot Sauce. Once mixed well, add cream cheese and 1/2 cup of Mozz Cheese.  Once creamy pour into 8×8 pan. Add dressing if desired, then add remaining cheese on top evenly.
Bake for 20 minutes.
My pan is 9×9, so I used 3 pkg. cream cheese, but everything else was the same as using an 8×8 pan.
4 packages of cream cheese will fill a 9×13 pan. No need to double chicken, but I usually add another chicken breast – In a pinch I have even used canned chicken and it was fine. Increase Mozz. cheese by at least 1 cup.
Here is former Communications Coordinator, Marianne's Sharp's favorite recipe, Alison Roman's Salted Butter Chocolate Chunk Shortbread Cookies.
And Medical Director Sallie Page-Goertz uses Bob's Raspberry Chipotle sauce on her meatballs – and it is scrumptious!
Enjoy!